Airport Ljubljana transfer
 

Low cost and reliable private transfers to tourist sites

  Affordable and reliable airport Ljubljana transfer with Airtrail Slovenia. At Airtrail we offer low cost and secure private door to door transfers from main international airport in Slovenia- Ljubljana Joze Pucnik airport. Our service provides comfortable private transfers to Ljubljana city as well as transfers to tourist destinations in Slovenia; Bled lake, Bohinj lake, Kranjska gora, Piran, Portoroz. All prices listed on webpage are fixed, with all costs included and for transfer with standard sedan. Although we offer lower prices than competition, we still provide high class service with english speaking drivers and operators.Call us and see for yourself why every year more and more travelers and entrepreneurs rely on us to get them to their destination in the right time and in a very convenient plus inexpensive way.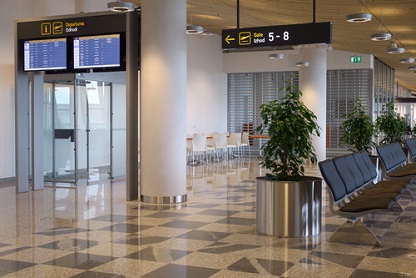 Beside transfers to destinations inside Slovenia our service offers transfers to airports in the vicinity of Airport Ljubljana: Zagreb Croatia, Trieste, Venice in Italy and to Austrian airports Vienna, Graz. Our special offer includes sightseeings in a company with an experienced driver who speaks your launguage and knows many interesting things about Slovenia, for a price of a regular taxi transfer.Do not hesitate to call us and get more information +386 41 281 228.Or send an email inquiry on: airtrail.slovenia@gmail.com
  Pre-book now and get price guarantee!
Call +386 41 281 228
  Easy to do online booking, click on a link
 Flat rates private door to door service:
airport Ljubljana transfer to Ljubljana city for 30 eur
airport Ljubljana transfer to Bled lake for 45 eur
airport Ljubljana transfer to Postojna caves 70 eur
airport Ljubljana transfer to Rogaška Slatina 99 eur
airport Ljubljana transfer to Piran or Portorož 129 eur
airport Ljubljana transfer to airport Klagenfurt 95 eur
airport Ljubljana transfer to airport Salzburg 250 eur
airport Ljubljana transfer to airport Graz 189 eur
airport Ljubljana transfer to airport Vienna  319 eur
  Conections to airports in Croatia and Italy:
from Ljubljana airport to airport Zagreb for 159 eur
from Ljubljana airport to airport Trieste for 130 eur
from Ljubljana airport to airport Venice 220 eur 
   * for limousine car up to 3 passengers and 3 suitcases

  Airtrail Slovenia top rated transportation service in Ljubljana offers best price economy class transfers to from LJU airport to Ljubljana city, trusted provider for airport transfers from ljubljana airport to Bled lake,lovest price offers for group minivan transfers from airport ljubljana. Beside regular airport shuttle service we provide transfer from airport ljubljana to Italy Trieste, Austria and Croatia. Best service provider with low rates mini bus transfers to airport ljubljana, cheapest mikro bus transfers to Bled and Ljubljana train station. Minivan group transfers Ljubljana hotels and hostels .Special offers include budget rate transport to or from airport ljubljana brnik, low costs transfer from brnik airport transfers to croatian coast, low rate private transfer from ljubljana airport to slovenian coast. Flat rate airport Ljubljana transfer to Bled, transfers to Kranjska gora and Bohinj. Ljubljana airport pick up transfer service is only provided without waiting when prebooked, otherwise our reponse time is 20 minutes as we do not have shuttle stand at the airport Ljubljana. Geo tag Brnik, LJU airport,Slovenia airport, Ljubljana.