Taxi transfer to Croatia
Reliable private transfers to or from Ljubljana airport Slovenia
    Taxi transfer to Croatia, from Ljubljana airport, or Ljubljana city center. As Slovenia is situated between Austria, Italy, Croatia, and Hungary it is an ideal starting point to reach Croatian tourist spots fast and in a convenient way. Basically, when you land at the airport in Ljubljana, whichever direction you would choose to go in about an hour or so, you´ll be out of the country. It is 167 kilometers to the capital of Croatia Zagreb from Ljubljana airport and some 145 km when going from Ljubljana downtown. If you travel to coast town Rijeka in Croatia even less, just about 135 kilometers. Below are listed costs for a private transfer with a standard sedan, our contact information, and a link for online booking.

   Croatia is most popular in the summertime. It has more than 1200 islands and more than 1000 kilometers of coastline. Along the Adriatic coast, you'll find remains of palaces, temples, and amphitheaters from the Roman Empire as well as forts, fishing villages, and fortified towns built during the many centuries of Venetian rule. The most popular tourist destination in Croatia is of course ancient coast town Dubrovnik. Although medieval Dubrovnik was badly damaged in an earthquake in 1667, much of the original architecture remains, including a pharmacy dating back to 1317, the oldest in Europe.
   Besides Dubrovnik, there are many other spots like Split, Trogir, Poreč, Pula, Zadar, Makarska Riviera, Plitivice and not forget capital Zagreb. For young tourists from western Europe are particularly popular party places Zrce and Pag, plus all the places where summer music fest events are. Even though Croatia doesn't feel like a place that has been much worked over by the tourist industry, development continues apace along the more commercialized stretches of the coast. Croatian tourism has spun off in a number of positive directions. Whether backpackers or touring families, long-distance cyclists, yachters or spa-hotel surfers, all visitors have seen a big leap forward in the range and quality of what the country is offering.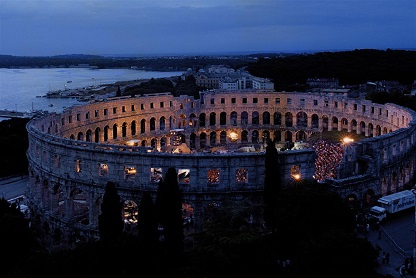 At Airtrail we offer low-cost private transfer connections, with fixed prices for all destinations in Croatia. Our vehicle fleet includes normal passenger cars, station wagons, and minivans for up to 8 people. Cars are in average 3 years old, regularly checked and airconditioned. All our drivers speak at least one foreign language and have an official license for providing taxi service. For families with small children we can arrange special child seats. For more info call +386-41-281-228 or send an email on: airtrail.slovenia@gmail.com
Call +386 41 281 228
 Book online or send us a direct email  !
All costs included flat rates private transfers:
Taxi transfer to Croatia Zagreb from airport Ljubljana 159 eur
Taxi transfer to Croatia Rijeka from airport Ljubljana 129 eur
Taxi transfer to Croatia Umag from airport Ljubljana 139 eur
Taxi transfer to Croatia Pula from airport Ljubljana  219 eur
Taxi transfer to Croatia Zadar from airport Ljubljana 349 eur
Taxi transfer to Croatia Zrce from airport Ljubljana 250 eur
Taxi transfer to Croatia Rovinj from airport Ljubljana 189 eur
Taxi transfer to Croatia Poreč from airport Ljubljana 169 eur
Taxi transfer to Croatia Krk from airport Ljubljana 179 eur
Taxi transfer to Croatia Split from Ljubljana city 499 eur

Taxi transfer to Croatia Dubrovnik from Ljubljana city 590 eur

*price per passenger taxi car, Minivan transfers cost 40 % more
Airtrail taxi service organizes transfer from airport Ljubljana to Croatia Porec, transfers from airport Ljubljana to Pula Croatia, transfer from airport Ljubljana to Umag Croatia, transfer from airport Ljubljana to Zadar, transfer from airport Ljubljana to Rijeka and transfer to Croatian Istria peninsula Motovun. We offer flat rates for taxi from Ljubljana city center to Split Croatia, taxi from Ljubljana to Dubrovnik, taxi from Ljubljana to Pula, taxi Ljubljana Umag, taxi from Ljubljana to Opatija plus other Croatian coast towns Split and Dubrovnik. Private car service transfers Slovenia - Croatia, private transfers Ljubljana train station to Croatia, private tours from Slovenia Bled lake to Croatian coast Rovinj, private transfers to Croatian tourist hot spots Sibenik and Plitvice. Airport shuttle Slovenia - Croatia. Transfer list of Croatian towns we regularly provide shuttle connection to Savudrija, Umag, Poreč, Rovinj, Pula, Rijeka, Senj, Zadar. Connection from Ljubljana Slovenia to islands in Croatia Cres, Krk, Pag, Rab...Thank you for visiting Taxi transfer to Croatia page .