Private tours Slovenia
Slovenia must see sights, custom made private tours
   Welcome to our private tours Slovenia page. If you are looking for customized private day tours of Slovenia´s most interesting places, we can offer you just that. There are many interesting sights to see in Slovenia and often not so much time on your hand. Here our custom made private tours and day trips can help you out, as we will make a tour route specially customized to your wish list of places to see.

   At the start of your tour, one of our experienced drivers will come to pick you up in person at your hotel, hostel or apartment. Drivers are well trained and knowledgeable with all Slovenian tourist destinations and with the ones in the vicinity of Slovenia. For the whole time of the trip, our driver will be available to you for any changes en route, to add an extra stop to your tour or to find you a nice local place for a good meal. All drivers are fluent in English, licensed and checked by the local authority. All of them also need to pass the Ljubljana city tourist exam and practical test of English.

 Have questions about the day trip price or you need help on what to include in your Slovenia tour? Want to know more about private car service in Slovenia? Wondering how to hire a private driver in Ljubljana city or a professional chauffeur for road trips across Slovenia? Looking for a private chauffeur service for multi-day tours in Slovenia, Italy, Austria, and Croatia? Our staff is here to help, answering your questions, helping to plan your perfect private tour in Slovenia and assisting you once the reservation is confirmed. We will be happy to answer you in English, Russian and German.

Email: airtrail.slovenia@gmail.com
Phone: +386 41 281 228
Online booking on this link
Private tours Slovenia Bled from 109 eur*
Private tours Slovenia Bohinj from 129 eur*
Private tours Slovenia Otočec from 119 eur*
Private tours Slovenia Postojna caves from 99 eur*
Private tours Slovenia Škocjan caves from 129 eur*
Private tours Slovenia Lipica farm from 129 eur*
Private tours Slovenia Piran from 199 eur*
Private tours Slovenia Portorož from 199*

*price includes private trip from Ljubljana for max 3 pax
Škocjan caves
  Due to their amazing beauty and dramatic scenery, the Škocjan Caves will make a lasting impression on any visitor. Due to the significance and importance of the caves as one of the planet´s natural treasures, Škocjan caves were added to the Unesco world heritage list in 1986. Though smaller than Postojna caves, many visitors find Škocjan caves more attractive. By all standards a must-see spot for a day trip in Slovenia.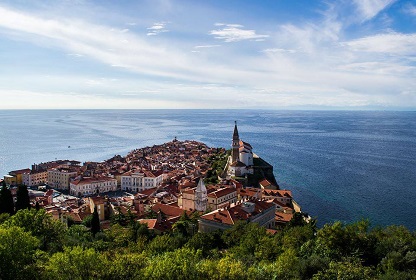 Postojna caves
  Arguably the biggest and the most visited tourist attraction in Slovenia. Postojna Cave had its first prominent visitor already back in 1819, at that time the heir to Austro-Hungarian throne Ferdinand I. visited the cave. The small electric train on the photo below started to operate in 1872, though at that time it was working on manual power. Postojna cave is something you should not pass while in Slovenia and together with a stop at Predjama castle you will have a nice half day tour.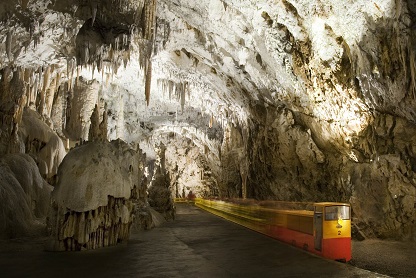 Bled lake
   Bled, is probably the most photographed site in Slovenia and not one photo can give you the same impression as the real thing. Bled and its castle have a long history, but tourism started to develop only in last 50 years. Bled has with its Castle, Island, lake and Vintgar Gorge just enough things to see for a nice one day tour. For years Bled is also a very popular spot for young couples, who want to start their married life together right here.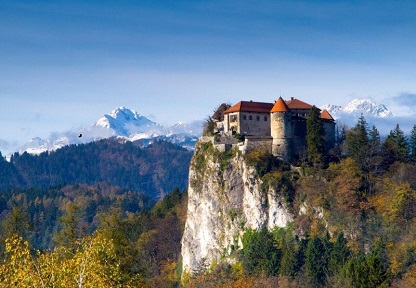 Lipica Stud Farm
  Probably you did not know, that famous Lipizzaner horses got their name from a small village in Slovenia? The real beauty of Lipica Stud Farm lies in its history. Established in 1580 by Charles II, Archduke of Austria, Lipica is a living monument to the pass times and glory of the Austro-Hungarian empire. With the fall of the empire, two other Lipizzaner farms were open, one in Vienna and the other in Budapest. By the way, did you know that Lipizzaner horses are born black?
Information on the Private tours Slovenia page is basic, for more detailed pricing for customized tours in Slovenia and private transfers, please use direct contact email. All custom made private tours Slovenia are provided with English speaking drivers, private tours Slovenia, and private driver services in Slovenia as well as ones in Italy or Croatia are organized in accordance with Slovenian and local transportation and tour operator laws. Private tours Slovenia company Airtrail is the sole contractor for mentioned custom tours and transfers in Slovenia and near abroad. Day trips from Ljubljana to Rovinj or Porec Croatia are available upon demand. Cave tours Slovenia Postojna price and cave tours Slovenia Skocjan price is without entrance fees. Castle tour Slovenia Predjama price is without an entrance fee. Bled lake private tours Slovenia price is without a castle entrance fee. Private tour guide in addition to chauffeur service in Slovenia and else is provided only on demand and is not included in the price listed on the page. The price listed is for private tours with a sedan car for max 3 passengers, all costs for such a custom day trip, except entrance fees, are included. Tags on Private tours Slovenia page Lipica, Lipica stud farm day trip, Lipca farm, Lipizzaner horses, Skocjan tours, cave tour Slovenia, private tour Slovenia caves.