To ski resort Krvavec from Ljubljana
Low cost taxi transfers to ski resort Krvavec from Ljubljana airport
   To ski resort Krvavec is almost 30 kilometers distance when departing from Ljubljana downtown. Directly from Ljubljana´s airport is less than 10 km. It takes an approximately 30 minutes taxi ride to reach Krvavec cable car from Ljubljana central train station. From Ljubljana airport, you can reach a cable car just in 15 minutes car ride. Distance to Krvavec cable car from another popular tourist destination lake Bled is 35 km. Scroll down for contact info, online booking, or click this link for Whatsapp messages.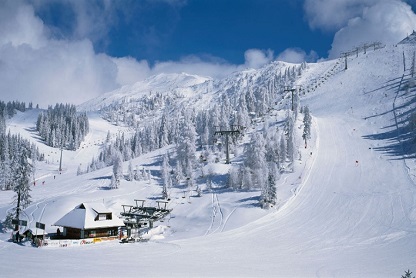 Ski Resort Krvavec, situated in the Municipality of Cerklje, is the closest Ski Resort to an international airport in Europe. The Ski Resort Krvavec has 30km of good-maintained ski runs on 1,450m to 1,971m above sea level, thus providing excellent conditions for skiing on natural and artificial snow. Due to the ski center's favorable position, the skiing season usually starts as early as the end of November and may last over 150 days until early May. The Krvavec ski resort guarantees 100 skiing days each season. The ski pistes are varied and ideal for both beginners and professional skiers. The rich additional package includes a Ski School, rental and service of ski equipment, a polygon for beginners, and a children's playground, and thus attracts and delights many visitors. Krvavec also offers rich selections of ski bars and cottages. It is one of the most popular ski resorts in Slovenia and especially popular with Ljubljanians, which need just 30 minutes with a car to reach the ski resort.
   We offer low-cost and reliable private transfer from Ljubljana city to Krvavec Cable car for a flat rate of 45 eur. For small groups of up to 8 passengers, we offer transfers to Krvavec with minivans per price of 65 eur. For more information call: +386-41-281-228 or send an email: airtrail.slovenia@gmail.com
Ljubljana airport taxi online booking
call us at +386 41 281 228
Transfer from Ljubljana online booking
Price list for transfers to the lower station of Krvavec cable car:
To ski resort Krvavec from Ljubljana center 45 eur
To ski resort Krvavec from airport Ljubljana 30 eur
To ski resort Krvavec from Bled lake 70 eur
To ski resort Krvavec from Bohinj lake 99 eur

To ski resort Krvavec from Villach 120 eur
To ski resort Krvavec from airport Klagenfurt 120 eur
To ski resort Krvavec from airport Zagreb 199 eur
 * cost for transfer with sedan car for up to 3 pax

    Airtrail transfer service offers private transfer connection to ski resort Krvavec from Ljubljana downtown, taxi transfer to ski resort Krvavec from Ljubljana train station, transfers to Krvavec cable car from Ljubljana hotels. Krvavec private ski transfers and minivan ski transfers for groups are provided with no timetable. Our service includes transfer to ski resorts Kranjska Gora, Rogla, Kanin, Vogel, Bovec, Pohorje. Best prices for taxi transport to Krvavec cable car, low cost ski shuttle from city to Krvavec lift, Individual taxi transfer to Krvavec ski lift from the Bled lake, private transfers to Krvavec from Brnik. Ski shuttle Krvavec, private transfers ski resort Krvavec Slovenia, ski transfers Krvavec cable car, ski shuttle Slovenia Ljubljana. All prices are fixed no matter of date and time of transfer. Geotag Krvavec, Slovenija, Ski Krvavec. Thank you for visiting the To ski resort Krvavec page.