Taxi transfer from Portoroz
Private transfers to airports in Slovenia, Italy and Austria
    Airtrail Slovenia offers comfortable taxi transfer from Portoroz. Slovenian cost town Portorož (Portorose) is situated at 140 kilometers distance from Ljubljana airport and at 123 kilometers from Ljubljana city. Normaly ride from Portorož to Ljubljana airport last about an hour and half.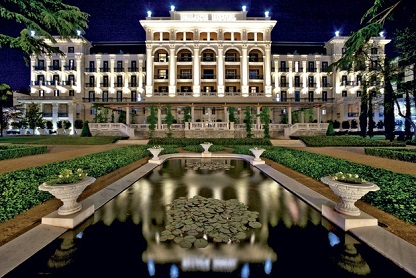 Portorož is mostly known for its wide selection of high-class hotels and casinos. There is a wide range of hotels in Portorož, where you can enjoy a high-class service in a luxurious environment.Even if the beginnings on the area of today's Portorož can be traced back to the Roman times, tourism started to develop in the second half of the 19th century. One of the most prominent hotel- Palace, was built in 1909 and is still today one of the top hotels in Portorož, today known as Kempinski palace. Today Portoroz is a popular place to work, relax and have fun.The coastal town is also a well-known convention centre. Numerous convention halls, some of which can accommodate up to 1500 people at a time, are hosting prominent local and international meetings and events.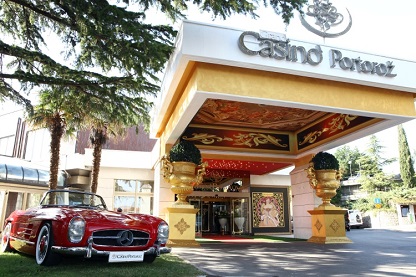 We offer comfortable individual transfer from Portorož to Ljubljana airport per flat rate 129 eur. For small groups up to 8 passengers, we have available minivan offer for 169 eur. All prices are fixed, no extras for luggage, highway fees, holidays, nighttime or extra time spend  in summer traffic jams. If needed, special infant seats can be arranged for families traveling with small kids, no additional costs. For more details on services and prices call +386 41 281 228, we speak english, german, russian and serbian. Or send us an email, we´ll respond as soon as possible: airtrail.slovenia@gmail.com
  Call us,we´ll do our best for your tavel comfort
          call us at +386 41 281 228
2016,17,18 Tripadvisor Certificate of Excellence!
  Flat rate door to door transfers :
taxi transfer from Portoroz to Ljubljana city 109 eur
taxi transfer from Portoroz to airport Ljubljana 129 eur
taxi transfer from Portoroz to Bled lake 159 eur
taxi transfer from Portoroz to Bohinj 179 eur
taxi transfer from Portoroz to Kranjska Gora 199 eur
taxi transfer from Portoroz to airport Klagenfurt 219 eur
taxi transfer from Portoroz to airport Graz 269 eur
taxi transfer from Portoroz to airport Pleso Zagreb 239 eur
taxi transfer from Portoroz to airport Venice 220 eur
taxi transfer from Portoroz to airport Vienna 419 eur
    * price for Minivan transfers for up to 8 people are 40% higher
Airtrail taxi service offers affordable transfer from Portoroz to airport Ljubljana, low-cost transfer from Portoroz to tourist destinations Venice, Verona, low-cost private transfer from Portoroz to airports Ronchi Italy, Venice Italy and Vienna Austria. We guarantee prices for all transfers from Portoroz Slovenia, best price offer for private chauffeur driven transfer from Portoroz Slovenian cost. Best rated service provider airport shuttle from Portoroz, group airport shuttle transport from the Bled lake to Portoroz, transportation for tourist groups from Portoroz to Ljubljana, transfers from Portoroz to Graz, road transfer connection from Portoroz to Vienna airport. Private car service Portoroz Slovenia, Private tours Portoroz Slovenia provided under transport and tourist laws of Slovenia EU. Transfers from Portoroz/ Portorose can be booked online, as well as with direct call. Thanks for visiting our site.Geotag: Portorose Slovenia,Lubijana Slovenia