Booking Ljubljana airport taxi
 Pre-book a transfer to city centre online in a few minutes

  Welcome to Airtrail Slovenia´s  Booking Ljubljana airport taxi online site. If you are wondering how to book a taxi at Ljubljana airport, or asking your self how much transfer will cost, you are at the right place! Our company is a low cost provider for airport shuttle and tourist transfers in bussines from 2013. We offer you affordable and reliable private transfer for up to 3 passengers & 3 suitcases to Ljubljana city, for a budget price of only 30 euros.
  More information are available on +386 41 281 228, or via email: airtrail.slovenia@gmail.com
  To pre-order a transfer from Jože Pučnik airport Ljubljana online,we propose to use this booking form.
  Fill in details as listed below:
- Date (of landing DD/MM/YY)
- Landing time (estimated time of arrival)
- Your name ( for a name sign)
- Flight number (or town of flight departure)
- Number of passengers (any specific details)
- Number of luggage (any specific details)
- Email adress (mandatory for confirmation!)
- Mobile number with country code (mandatory)
- Going to (optionally )
- Note (optionally babyseats, credit card)
   All the fields with asteriks * are mandatory, please enter the phrase and don´t forget to click SEND.
  Pre order return transfer to airport online now!

  In matter of hours you can expect an confirmation email,but in no case latter than 24 hours. When transfer is booked and confirmed,from there on all the rest is on us. When you will land on airport Ljubljana, our driver will wait for you at the exit from terminal having a sign with the name you submited. As we monitor all the flights landing on Ljubljana airport, there is no need to worry about late landing. We adjust to the delays and we charge no extras for that.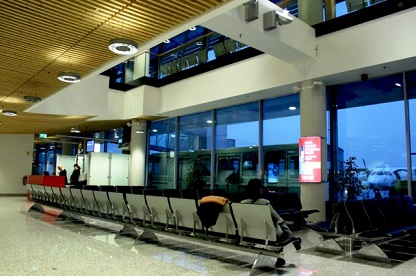 We would like to alert you that our company is city based and as such we do not have a permanent presence at the Ljubljana airport. We operate only on pre-booking, if not booked in advance our response time is around 25 minutes. In case you did not organize a transfer and too much in the hurry, there are taxis standing in front of arrival lobby, fare for a taxi ride to city centre is around 45 euros. Except taxis other option is Shuttle or shared ride companies on the oposite side of the exit. If you are lucky enaf one of them is about to departure and if they drive to only one or two destinations,you should be in Ljubljana in matter of half an hour.Normaly it takes some time to fill the vans and if it is full it takes some time to deliver all passengers.
 Custom made private tours to popular spots in Slovenia


Booking Ljubljana airport taxi to city centre for 30 eur
Booking Ljubljana airport taxi to Bled lake for 45 eur
Booking Ljubljana airport taxi to Bohinj lake 69 eur
Booking Ljubljana airport taxi to Kranjska gora 79 eur
Booking Ljubljana airport taxi to Klagenfurt 85 eur
Booking Ljubljana airport taxi to Villach 90 eur
Booking Ljubljana airport taxi to Trieste 110 eur
Booking Ljubljana airport taxi to Piran 129 eur
Booking Ljubljana airport taxi to Portorož 129 eur
   *all listed prices are for sedan type of car for 3 passengers



Booking Ljubljana airport taxi service is provided in accordance with local and EU laws. Transfers and taxis in Slovenia are provided only with our own cars and drivers, sometimes on routes outside slovenia subcontractorsare are hired, that follow laws for taxis of Austria and Croatia,but must meet high standards of Airtrail Slovenia. We guarantee all prices for chauffer driven transfers in slovenia,airport shuttle in slovenia,on all destinations the moment they are pre booked.  Tag Online bookinh , taxi LJU, airport transfers LJU Geo tag: Lubiana, Slovinia,Slovinija,Ljublana,Liubiana,Lubljana,LjubanaSlovenai