Taxi transfer to Plitvice lakes
Private transfers to Plitvice lakes Croatia from Ljubljana Slovenia
     If you are looking for a reliable Taxi transfer to Plitvice lakes from Ljubljana, or any other spot in Slovenia, you landed at the right address. Tourist visiting Slovenia and planning to make a trip to Plitvice lakes, often find out that public transportation connecting two countries is horrible or even non-existent. Specialy as most of the visitors carry with them suitcases and do not want to spend the whole day changing bus and train lines in typically hot summer weather.Not to mention waiting lines on the croatian border, that our drivers know how to avoid.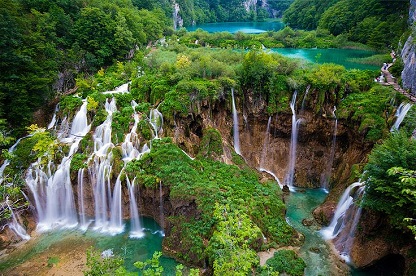 Here, we can offer you a very comfortable transportation solution for your travel Mathematics. We provide private door to door transfers from any city or tourist spot in Slovenia and will take you directly to amazing Plitvice waterfalls. We also provide airport transfers if you are landing at Jože Pučnik Ljubljana airport in Slovenia, or at any of the airports in the vicinity Trieste ,Venice ,Klagenfurt or Vienna. All transfers are private, custom made just for you and your timetable. As mentioned, private means of transportation is often the only way to reach certain spots and not so rare not much expensier, than traveling with uncomfortable and crowded buses or trains. It is understandable that costs for transfers are always in relation with number of passengers and type of vehicle needed, still, it is good to do some calculating in this regard. We will be happy to offer you comfortable limousines, spacious station wagon cars and Minivans for 6 or 8 passengers. Please feel free to get in contact with us, we will be glad to answer your question and quote your query. Call us, we will answer you in english, german and russian at any time on +386 41 281 228, or you can send us an email on airtrail.slovenia@gmail.com
Email: airtrail.slovenia@gmail.com
Airport pick up online bookings
Phone: 00386 41 281 228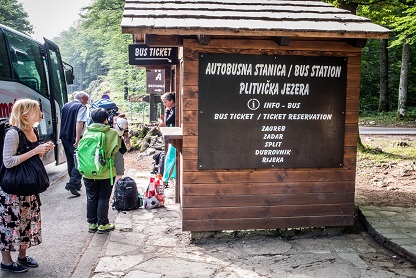 Plitvice lakes Info

The Plitvice lakes (Plitvička jezera) national park in Croatia is world famous for its lakes followed in waterfalls. In total 16 lakes can be seen from the surface and visitors platform. Plitvice lakes are a result of the of many small rivers and subterranean karst waters crossing locally.The 16 Plitvice lakes are separated into an upper and lower level, but all interconnected by water flow. Starting from an altitude of 636 meters above sea level and going over a total distance of some eight km,they offer an imense show of beauty, made by mother nature.In total Plitvička jezera cover an area of about two square kilometers at the end water exiting from the lower lake forms the majestic Korana River .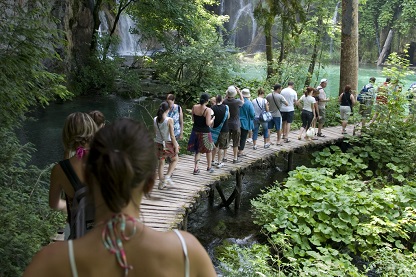 Flat rates door to door transfer, price that you pay:

Taxi transfer to Plitvice lakes from Ljubljana 229€
Taxi transfer to Plitvice lakes from LJU airport 249€
Taxi transfer to Plitvice lakes from Postojna 269€
Taxi transfer to Plitvice lakes from Bled lake 279€
Taxi transfer to Plitvice lakes from Piran 329€
Taxi transfer to Plitvice lakes from Trieste 329€
Taxi transfer to Plitvice lakes from Venice 429€
Taxi transfer to Plitvice lakes from Vienna 599€

*price for limousine max 3 pax plus 3 suitcases
  Taxi transfer to Plitvice lakes page provides costs estimate for private car service from Ljubljana Slovenia. Transportation from Ljubljana Brnik airport to croatian Zagreb and Plitvice lakes with Minivans is not included in price list. Costs for transfer with minivans from Ljubljana to Plitvice is higher and quoted on demand. Private car VIP service is provided upon demand from airports in vicinity of Pltvice lakes. Taxi service on route Ljubljana Plitvice is priced as above,not included are stops in suburbs or smaller Bus stations on outskirts of Ljubljana. Custom made one day tours from Slovenia to Plitvice and Zagreb Croatia are organized on demand. Costs include transfer door to door to any destination inside Plitvice national park from any hotel in city Ljubljana also inside pedestrian area. Airport meet and greet at Brnik is included in price Geo tag Plitvce,Pltvice lakes,Plitice lakes, Lubljahana,Lubljana. Thank you for visiting Taxi transfer to Plitvice lakes page