Taxi transfer to Opatija
Realiable private airport transfers Ljubljana to Opatija Croatia
   Taxi transfer to Opatija Croatia from Ljubljana airport, or city Ljubljana Slovenia. Croatian coast town Opatija is at 130 kilometers distance from airport Ljubljana, 20 kilometers less when departing from Ljubljana city center. Typically taxi ride to Opatija from Ljubljana Brnik airport usually takes 1 hour 45 minutes. Please scroll down the page for our contact phone number and email, or book online your transfer from Slovenia to Opatija via this link.
  Opatija is located in the Kvarner Bay, some 15 km from Rijeka, Croatia's third-largest city. Locally known as the "Old Dame", or named by tourist workers as a Queen of Tourism, Opatija is a remarkable seaside resort town with a long history of tourism. The first starts as a tourist resort in Opatija are stretching back to 1844. With buildings of stunning architecture, fragrances of flowering gardens, and sounds of a cultural city buzzing, Opatija is a place where you´ll spend your holidays in a state of admiration.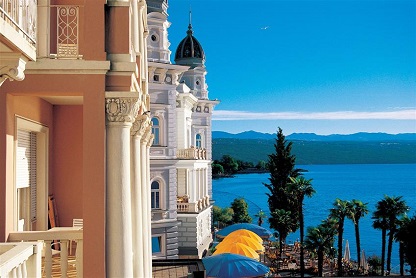 The feeling of the 19th century is present everywhere in Opatija and amongst grand hotels with elegant facades from that period, you can easily visualize past visitors from Austria's Hapsburg dynasty. You can easily imagine the presence of a long list of world dignitaries who have over the years enjoyed beaches and walked down the alleys of Opatija. Opatija truly is a holiday destination of elegance and distinctive style!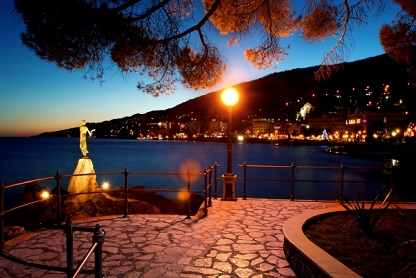 Our company offers fixed price individual transfers from Ljubljana airport to Opatija for 159 eur or 139 eur from Ljubljana city center. For small groups of up to 8 people, we offer transfers to Opatija with minivans for 199 eur from the airport or when going from Ljubljana city center 169 eur. When required infant seats can be arranged for families traveling with small kids, at no extra charge. All prices are final, no extras for luggage, highway fees, nighttime, or additional time spend on the way in summer traffic jams. Call us at+386 41 281 228 for more info, we speak  English, German, and Russian. For all other services and prices check the links on the right side or send us an email at airtrail.slovenia@gmail.com
2016- 2020 Tripadvisor Certificate of Excellence!
       Call us at +386 41 281 228
Door to door private transfers Slovenia - Opatija price list:
Taxi transfer to Opatija from airport Ljubljana 159 eur
Taxi transfer to Opatija from train station Ljubljana 139 eur
Taxi transfer to Opatija from airport Trieste 229 eur
Taxi transfer to Opatija from airport Klagenfurt 259 eur
Taxi transfer to Opatija from airport Venice 349 eur
Taxi transfer to Opatija from airport Vienna 499 eur
Taxi transfer to Opatija Croatia from Graz airport 339 eur
Taxi transfer to Opatija Croatia from Bled lake 189 eur
Taxi transfer to Opatija Croatia from Bohinj 219 eur
*flat rate for passenger limousine private transfers
Airtrail taxi company guarantees flat rates no matter what, for transportation from airport Ljubljana taxi transfer to Opatija, transportation from Ljubljana train station to Opatija, taxi transfers to Opatija from airports Klagenfurt, Graz, Trieste, Vienna, Venice, Zagreb. Low-cost private car offer for taxi transfer connection to Opatija Kvarner from Slovenia, guaranteed cheapest service for private transfer Bled lake to Opatija Adriatic sea. Providing private transfers from Slovenia to Opatija Croatia, transfers from Bled to Opatija Croatia, taxi transfer from Bohinj Slovenia to Opatija Croatian coast. Private car service Ljubljana Opatija. Geotag Opatiya, Opatija,Opatja, Croatia,Lubjana, Lubiana. See links for other private transfer services, please. Thank you for your visit to Taxi transfer to Opatija page.