Low cost taxi to Bled
Private transfers to Bled lake from all mayor airports
    Low cost taxi to Bled lake Slovenia. Airtrail Slovenia taxi service offers secure and low-cost taxi to Bled from Ljubljana international airport and airports in the neighborhood. With many years of experience in the taxi business we guarantee the lowest possible price for a private transfer from airport Jože Pučnik Ljubljana to lake Bled for 45 eur. We offer private transfers with passenger cars, station wagons, and minivans for up to 8 people. For families with small kids, we can arrange required infant seats and boosters. Please check below for contact information, Whatsapp number or how to book your pick up online.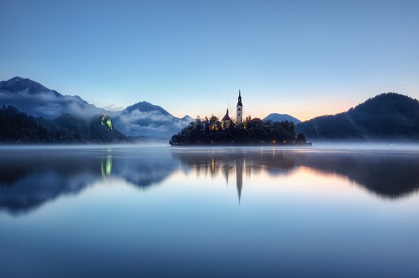 With immense natural beauty, Bled, together with its nature, ranks among the most beautiful alpine resorts, known for its mild, healing climate and thermal lake water. The beauty of the mountains reflected on the lake, the sun, the serenity and the fresh air arouse pleasant feelings in visitors throughout the year, guaranteeing an ideal base for a relaxing break or an active holidays. Bled attracts businessmen, artists, athletes, explorers, sport enthusiasts, the old and the young, from all over the world, enchanting them to return again and again.
    Beside destinations inside Slovenia our service offers you connetions to airports in the vicinity of Bled and Slovenia: Zagreb Croatia, Trieste, Venice in Italy and Austrian Vienna, Graz and Klagenfurt. We drive to all popular tourist destinations in Slovenia and Croatia and we can arange you a sightseeing in a company with an experienced driver who speaks your launguage. For any further information call +386 41 281 228 or send an email: airtrail.slovenia@gmail.com

Call us now,we are confident you gonna be satsfied!


  call +386 41 281 228
    Book online transfer from Ljubljana airport!

 We offer fixed price airport transfers :
 Low cost taxi to Bled from airport Ljubljana 45 eur
 Low cost taxi to Bled from Ljubljana city  55 eur
 Low cost taxi to Bled from airport Klagenfurt 99 eur
 Low cost taxi to Bled from airport Graz 209 eur 
 Low cost taxi to Bled from airport Vienna 349 eur

 Low cost taxi to Bled from airport Trieste 150 eur
 Low cost taxi to Bled from airport Venice 250 eur 
 Low cost taxi to Bled from airport Zagreb 179 eur

* flat rates for limousine type car max 3 pax & 3 bags

 


Airtrail Ljubljana taxi transfer service offers inexpensive transport to Bled lake from Vienna, individual low cost taxi to Bled lake from Trieste, low cost taxi to Bled from Venice Italy for small groups. Airtrail offers low cost taxi to Bled Slovenia from airports in Austria and Italy, airport Ljubljana Brnik transfer to Bled, transfer from Bled to Kranjska gora or Kranj. Most ordered connections: private taxi to lake Bled from Ljubljana train station, private transfer to lake Bled from Ljubljana hotel, private transfer to lake Bled from airport Klagenfurt, transport from airport Ljubljana to lake Bled. We provide service low price private transfer from airport to lake Bled and have fixed prices for all destinations, no matter extra time spend or additional luggage. Any additional rates for transfers to Bled lake apply only with extra destinations. Tags: low cost taxi to Bled, low cost taxi to Bled, low cost taxi to Bled, low cost taxi to Bled, low cost taxi to Bled