Connection to Zagreb
Low cost taxi transfer to Zagreb from Ljubljana Slovenia

    Low cost connection to Zagreb with Airtrail Slovenia taxi service. We offer inexpensive and secure transfer from main international airport in Slovenia and from other starting points in Slovenia and abroad. With years of experience in bussiness we guarantee you lowest possible price for taxi transfer from city Ljubljana to Zagreb for 129 eur. We offer private door to door transfers with passenger limousine cars, stationwagons and minivans for up to 8 people. For families with small kids we can arrange required infant seats and boosters. Please check below for phone number, contact email or book your Zagreb transfer online via this link.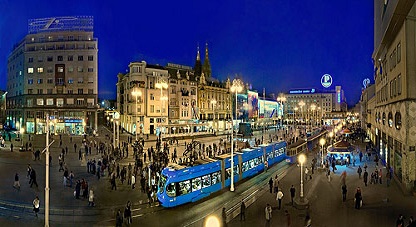 Zagreb is a fascinating destination on its own, combining the best of Eastern and Western Europe. Austro-Hungarian buildings in the town centre house elegant restaurants and fashionable boutiques along with scruffy pubs and rowdy beer halls. A proliferation of galleries display the works of the artistic community, a parade of inter­national stars perform in the concert halls, and local DJs fill clubs with the latest sounds. No matter the weather, there's a wealth of diversions in Zagreb. A proper pub-crawl could take weeks, and there's an assortment of museums and galleries to explore, regular concerts for the culturally minded and enough fine shopping to empty  your wallet.

  Beside destinations inside Slovenia our service offers connetions to airports in neighboring countries from Ronchi Trieste, Marco polo Venice in Italy and Austrian Vienna, Graz and Klagenfurt. We offer affordable transfers to tourist destinations in Slovenia and Croatia and we can arange you sightseeing in a company with an experienced driver. For all further information call +386 41 281 228 or send an email: airtrail.slovenia@gmail.com

Call us now,get price guarantee!
call +386 41 281 228
Whatsapp messages
 
All costs included flat rates transfers:
connection to Zagreb from Ljubljana city 129 eur 
connection to Zagreb from Ljubljana airport 149 eur
connection to Zagreb from Bled 179 eur
connection to Zagreb from Postojna 169 eur
connection to Zagreb from Kranjska G. 199 eur
connection to Zagreb from Piran 229 eur
connection to Zagreb from Trieste 229 eur
connection to Zagreb from Venezia 329 eur
*cost for transfers with Minivan for up to 8 passengers are higher

We provide low cost private transfer connection to Zagreb Croatia from Ljubljana city, taxi transfer to airport Franjo Tudjman  Zagreb from Ljubljana hotels, low cost taxi to Zagreb from Ljubljana for small groups, cheap taxi transfer connection to Zagreb from Slovenia for tourist, cheap transportation from airport Ljubljana to Zagreb, private shuttle to Zagreb from Bled and Bohinj. Best price offer private transfers Ljubljana to Zagreb, guaranteed low cost taxi from Kranj, Celje, Kranjska gora, Bohinj to Zagreb. Transfer from Zagreb to Ljubljana main train station, low cost transport for groups from Zagreb to Ljubljana Slovenia, low cost private transfer from Zagreb airport to airport Ljubljana. Private Shuttle from Zagreb Franjo Tudjman airport to Bled lake, online booking service Zagreb to Ljubljana shuttle. Geo tags Lublana, Lubljana, Ljubljana,Slovenija, Slovenie, Croatia, Hrvatska, Zagreb, Zgareb