Transfer to Kranjska Gora
Low cost private transfers to ski resort Kranjska Gora Slovenia
   Transfer to Kranjska Gora from Ljubljana´s airport is quite fast, since there is less than 65 kilometers of highway and good local roads distance. Typically it takes around 50 minutes to get to ski resort from Jože Pučnik airport. When your transfer starts from Ljubljana city center the journey takes about one hour as is at about 85 kilometers distance.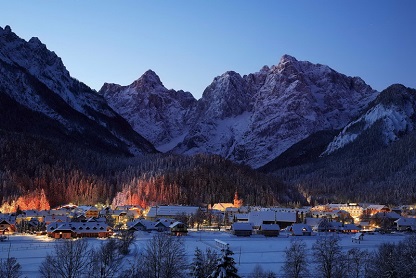 The white soul of Kranjska Gora was always Alpine skiing. A special characteristic of the skiing offers of Kranjska Gora is the diversity of the slopes offering quality skiing to both beginners and experienced skiers alike.Place for themselves on the ski slopes will find also Snowboarders, the experienced and the begginers.
   Best thing about Kranjska Gora is that you can step onto the ski slope, directly by stepping out of bed. The only thing between your hotel and the ski trails is the snow beach, where ski instructors, with the help of a baby lift and various animating obstacles, teach your children to ski.
   If you do not ski but have the will to do so, they will find a patient instructor and lend you the ski equipment so that you can go down the hill of the beginner's pist already on your first day. With time, you will advance on the scale of terrain difficulty and might someday even try out the competition run in Podkoren, the annual contest of the Alpine Skiing World Cup.
   Airtrail taxi service offers low cost taxi transfer from  Ljubljana´s airport for a fixed price of 79 eur. For small groups up to 8 passengers we offer transfers minivans per flat rate of  109 eur. For more information call us at: +386-41-281-228 or send an email on: airtrail.slovenia@gmail.com
pre order online, via call, sms, whatsapp or email

Call us at +386-41-281-228
Airport pick up easy to use online booking form
Transfer to Kranjska Gora from Ljubljana centre 89 eur
Transfer to Kranjska Gora from airport Ljubljana 79 eur
Transfer to Kranjska Gora from airport Trieste 199 eur
Transfer to Kranjska Gora from airport Graz 239 eur
Transfer to Kranjska Gora from airport Klagenfurt 139 eur
Transfer to Kranjska Gora from airport Zagreb 239 eur
Transfer to Kranjska Gora from airport Venice 299 eur
   * listed rates transfers for passenger car, max 3 pax and 3 suitcases
    Airtrail transfer service offers best rate transportation to Kranjska Gora and other ski resort in Slovenia Krvavec and Vogel. Best offer for airport Ljubljana transfer to Kranjska gora and tourist destinations Planica, Podkoren. Our service includes shuttle transfer to Kranjska Gora from Ronchi Trieste, private transfer to Kranjska gora from Venice Marco polo. We provide connection from airports in vicinty to Kranjska Gora, from resort Bled to Kranjska gora, taxi from Ljubljana city hotels to Kranjska gora. Best price offer taxi Ljubljana main train station to Kranjska Gora, low cost small group transfer from Ljubljana Brnik airport to Kranjska Gora, affordable private transfer to Kranjska Gora from Klagenfurt, winter ski shuttle Kranjska gora Ljubljana, local Kranjska gora ski airport shuttle, ski transfers Kranjska gora, transfers from Ljubljana airport to Vrsic pass, door to door transfers from airport to mountain pass Vrsic ...