Taxi transfer to Bled from Ljubljana
 Private transfers to Bled from airports in Italy,Austria and Croatia
  Comfortable taxi transfer to Bled lake from the city or airport Ljubljana. Popular tourist spot Bled is located less than 35 kilometers from Ljubljana airport and 53 kilometers from Ljubljana city. Driving to Bled from the airport lasts about half an hour, a bit more from the Ljubljana city center, some 40 minutes. In order to book your transfer to Bled lake, please scroll down for online booking and other contact options.

   In the middle of a Bled lake, you will find the only Slovenian island but its uniqueness makes it more attractive for many than known archipelagos. Surrounded by the mountains of the Julian Alps, the island reigns in the middle of an Alpine lake. Folk custom is that you need to ring a bell in the island church, for good fortune.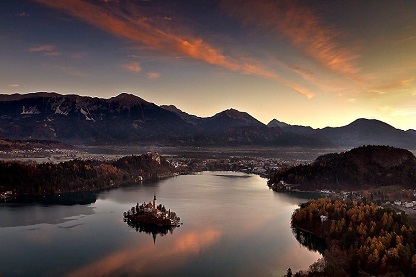 Bled was mentioned for the first time in 1004 when then German emperor, Henry II, gifted it to the Bishop of Brixen. Only at the beginning of the 19th century Bled started his transformation into a lively tourist spot, known today. Swiss Arnold Rikli, discovered that the gentle climate and the lake and thermal waters are a source of good health and well-being. At the beginning of the 20th century Bled lake, then part of the Austrian empire, already attracted the European aristocratic elite and famous people of that time.
   Airtrail Slovenia offers comfortable individual taxi transport to lake Bled from Ljubljana airport for 60 eur. For groups of up to 8 people traveling to Bled together, we have at disposal minivans for 80 eur. All Bled transfers rates are definitive, no extras for luggage, highway fees, nighttime or extra time spend on the way. Optionally, infant seats can be arranged for families traveling with small kids. Contact us via phone at +386 41 281 228, we speak English, German, Russian and Serbian, or send us an email at airtrail.slovenia@gmail.com
   Call us, we´ll take care of your transfers needs
             call +386 41 281 228
Ljubljana Jože Pučnik airport pick up online booking
Price list door to door private airport or intercity transfers Bled lake:
Taxi transfer to Bled from airport Ljubljana 60 eur
Taxi transfer to Bled from Ljubljana city 80 eur
Taxi transfer to Bled from Piran 189 eur
Taxi transfer to Bled from Portoroz 189 eur
Taxi transfer to Bled from Rogaška Slatina 179 eur

Taxi transfer to Bled from Villach Austria 110 eur
Taxi transfer to Bled from Vienna Austria 449 eur

Taxi transfer to Bled from airport Klagenfurt 129 eur
Taxi transfer to Bled from airport Graz 249 eur
Taxi transfer to Bled from airport Ronchi Trieste 210 eur
Taxi transfer to Bled from airport Venice Italy 329 eur  
Taxi transfer to Bled from airport Zagreb, Croatia 219 eur
* flat rate for passenger car transfers, Minivan prices are 40% higher
Airtrail Slovenia guarantees flat rates private transportation from airport Ljubljana to Bled, pivate groups shuttle transport from Ljubljana airport to Bled lake. The rates apply for individual transfer from Bled to airport Ljubljana, or transfers for groups from Bled to the airport Ljubljana. Flat rate Individual transfers from Ljubljana train station to Bled lake, as well as Ljubljana hotels and Airbnb apartments. Bled lake private transfers are provided exclusively by Airtrail Slovenia. Shuttle service from Bled lake to airports for individuals or groups is offered by leading local transportation companies. All Shuttle transfers from Bled lake are guaranteed when booked via phone, our webpage or online booking page. Different conditions and rates apply for transfers from Bled to Postojna cave, private transfers from Bled to Piran or private transfers from Bled to Portoroz. Exclusive local taxi and shuttle provider for transfers LJU Brnik airport to Bled lake for travel agencies and business VIP passengers since 2013.