Taxi transfer to Rovinj
Safe and low cost private taxi transfer to Rovinj from Ljubljana
   Taxi transfer to Rovinj Croatia, from tourist spots in Slovenia and airports in the vicinity: Klagenfurt, Graz, Vienna, Ronchi Trieste, and Marco Polo Venice. Croatian coast town Rovinj is situated at 205 kilometers distance from Ljubljana airport in Slovenia. It takes more than a two-hour ride from Ljubljana´s airport to reach Rovinj, which is when no traffic jams, which can occur in the summertime. Please, scroll down for prices, contact information, and online bookings.


   Rovinj (Rovigno) has a very long history. Rovinj was already a settlement of Illyrian tribes in times before being captured by the Roman empire. Before it was connected with the mainland in 1763 by filling in the channel, Rovinj was a small settlement built on an island close to the coast. From 1283 to 1797 Rovinj was one of the few important towns of Istria under the Republic of Venice. After Venice fall and the Napoleonic interlude, Rovinj was part of the Austro-Hungarian empire till the end of WWI. When WWI ended it belonged to Italy from 1918 to 1947, when it was ceded to than socialist republic of Croatia within former Yugoslavia. Today´s Rovinj is of course a part of Croatia, which became independent after a long and terrible war in the´90s.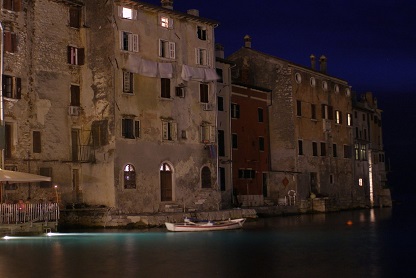 Rovinj is gently poised between the medieval port and upmarket tourist resort. Coastal town managed to preserve its character better than anywhere else along the Croatian Istrian coast. Venetian style houses and elegant town squares add predominant Italian flavor to the town, and the harbor is a lovable mixture of locally owned small fishing vessels and luxurious yachts. Rovinj is also the most Italian town on Croatia´s coast, the language is widely spoken, and street signs are also bilingual. There is also an Italian high school in town.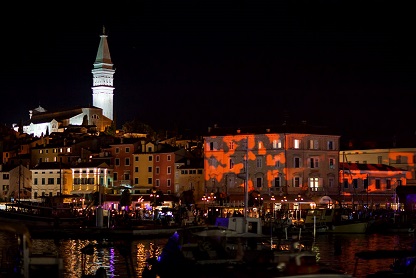 Airtrail Slovenia offers a comfortable individual transfer from Ljubljana airport to Rovinj for 189 eur and for 169 eur from Ljubljana center. When traveling in small groups up to 8 people we can offer a minivan for 269 eur from the airport or when going from Ljubljana center for 249 eur. Infant seats can be arranged for families traveling with small kids, no extra charge. We charge no extras for luggage, highway fees, nighttime or more time spend on the route in high season traffic jams and we give additional discounts for both way trips. Call us at +386 41 281 228 if more details needed, operators speak English, German, Russian and Serbian. For all other destinations and prices follow links on the right side or send us an inquiry to get a quote: airtrail.slovenia@gmail.com
2016-2020 Tripadvisor Certificate of Excellence!
            Call us +386 41 281 228
Airport Ljubljana and city Ljubljana online booking
    Flat rate private transfers, all costs included:
Taxi transfer to Rovinj from airport Ljubljana 189 eur
Taxi transfer to Rovinj from Ljubljana city 169 eur
Taxi transfer to Rovinj from Ronchi Trieste 199 eur
Taxi transfer to Rovinj Croatia airport Klagenfurt 269 eur
Taxi transfer to Rovinj Croatia from airport Venice 299 eur
Taxi transfer to Rovinj Croatia from Graz airport 299 eur
Taxi transfer to Rovinj Croatia from Bled lake 219 eur
Taxi transfer to Rovinj Croatia from Bohinj 239 eur
Taxi transfer to Rovinj from Koper/Capodistria 169 eur
Transfer to Croatia Poreč from airport Ljubljana 169 eur
Transfer to Croatia island Krk from airport Ljubljana 179 eur
Transfer to Rovinj from airport Ljubljana (minivan) 269 eur
*flat rate for transfers with passenger limousine 
Airtrail taxi company guarantees fixed prices taxi transfer to Rovinj from Ljubljana no matter delays on the border, flat rate taxi transfer from airport Ljubljana to Rovinj, private transfers from Ljubljana city center to Rovinj/Rovigno Adriatic sea, taxi transfer to Rovinj from airports LJU in Slovenia and Klagenfurt, Graz, Trieste, Vienna, Venice, Zagreb. Low-cost taxi connection to Rovinj Adriatic coast from Slovenia Ljubljana, guaranteed the cheapest service for a private transfer to Rovinj from the Bled lake. Providing airport transfers from Slovenia to Rovinj Croatia, Minibus taxi from lake Bled to Rovinj Croatia, taxis from Bohinj lake Slovenia to Rovinj Croatian coast, taxi from Rovinj to airport Ljubljana, shuttle from Rovinj to airport Trieste. Airport shuttle Ljubljana Rovinj, shuttle transfers Rovinj -Bled. Private car service Ljubljana Rovinj, private tours from Slovenia to Rovinj. See links for other services, on the right side of the taxi transfer to Rovinj page, please. Geo tag Roviny, Rovinj, Hrvatska,Croatia,Lublana,Ljublana