Taxi transfer to Koper
 Affordable private transfers to or from Koper/Capodistria Slovenia
  Taxi transfer to Koper from airport Ljubljana-Brnik Slovenia. Koper the bigest slovenian cost town is at 127 kilometers distance from Ljubljana airport and at 105 kilometers from Ljubljana centre.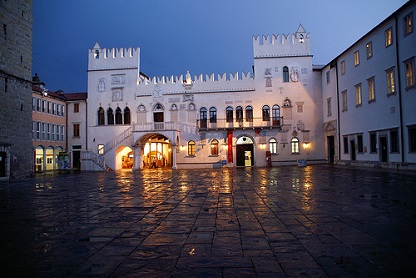 Coastal Slovenia's largest town, Koper (Capodistria) at first glance appears to be a workaday port city that scarcely gives tourism a second thought. Yet its central core is delightfully medieval and narrow streets and old houses still reflect the Venetian influence.Often overlooked by tourist who deside for more familiar Piran and Portorož, Koper is the centre of the Italian ethnic community of Slovenia and the street signs are in two languages.One could easely forget that is still in Slovenia since arhitecture in city centre is quite similar to Italian, also you can hear a lot of Italian language used by locals.
  We offer individual transfer to Koper from Ljubljana airport and airports in vicinty:Zagreb,Graz,Klagenfurt,Venice. All our prices are fixed,from Ljubljana airport to Koper per 109 eur and from Ljubljana downtown for 89 eur. For small groups up to 8 people we offer minivan for 149 eur when going to Koper directly from airport and 129 eur from Ljubljana centre. When necessary we can arange special child seats for families traveling with small kids, no extra charge. All prices are fixed, no extras for luggage, highway fees, holidays, nightime or extra time spend on road in summer traffic jams.For more information call +386 41 281 228, we speak english, german, russian and serbian. Or you can send an iquiry to: airtrail.slovenia@gmail.com

Call +386 41 281 228
Some of ours fixed price offers:
Taxi transfer to Koper from airport Ljubljana 109€ 
Taxi transfer to Koper from Ljubljana 89€ 
Taxi transfer to Koper from Bled lake 139€ 
Taxi transfer to Umag from Bohinj 149€ 
Taxi transfer to Koper from Klagenfurt 169€ 
Taxi transfer to Koper from Venice 229€ 
Taxi transfer to Koper from Graz 249€ 
Taxi transfer to Koper from Vienna 369€ 
*transfers for up to 3 passengers, Minivan transfers cost 40% more
Airtrail taxi service oraganizes low cost taxi transfer to Koper, low cost transfer from airport to Koper,private transfer to Koper,taxi transfer to Koper from airports in vicinity,link to Koper.We offer best prices for transportation to Koper Slovenia, transfer to Slovenia Koper,connection to Koper Slovenia. Connecting airports Ljubljana, Klagenfurt, Graz, Zagreb, Venice,Vienna to slovenian coast town Koper Capodistria cheap and with quality.Private car service Koper Capodistria, Private tours Koper Capodistria Servicing transfer to all slovenian costs towns: Koper,Izola,Strunjan,Piran,Portoroz...