Transfer to Postojna - Taxi Postojna cave
 

Private transfers and tours from Bled or Ljubljana to Postojna caves
  Transfer to Postojna with a reliable local Airtrail taxi service. We offer you low-cost private transfers to Postojna cave from Ljubljana city, or directly from Ljubljana airport. As one of the most experienced companies in the taxi business, we guarantee you the lowest possible price door-to-door transfer from Ljubljana city to famous Postojna caves for 70 eur. For visitors who need a direct transfer from the Ljubljana airport to Postojna, our offer is 90 eur. We will arrange for you one way, or both way taxi transfer to Postojna caves from Ljubljana city or Bled lake. We offer standard sedan cars, station wagons, and minivans for up to 8 people. If you scroll down this page, you will find the price list for Postojna transfers, our contact information, or you can book our service right here online.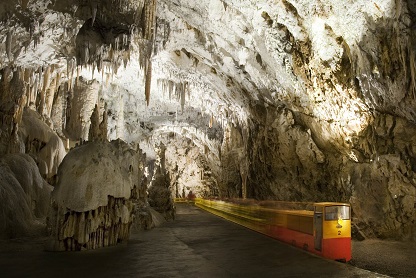 For 140 years, the Postojna Cave, as the only cave in the world, offers a unique and adventurous ride! A ride with a special electric train, which will take you on a journey into the cave. A unique view under spectacular underground arches, which are embellished with chandelier look-alike stalactites, through a beautiful subterranean world full of playful limestone sculptures. From 300 meters of accessible routes in 1818, a visitor today can enjoy the tour of 5 km through tunnels and passages which takes about an hour and a half. The tour begins at the entrance platform of this unique cave railway, where particularly in the summer you can feel a lively bustle otherwise typical of the biggest train stations in the world. This is where 3.7 km long railway tracks begin.

  Besides destinations inside Slovenia, our service offers you private shuttle connections to airports in the vicinity of Postojna caves like Zagreb, Trieste, Venice plus Austrian airports Vienna, Graz, and Klagenfurt. We can take you to all the famous tourist destinations in Slovenia and Croatia and we can arrange for you a sightseeing tour of Postojna and Predjama castle together with an experienced driver who speaks English language. For all further information call +386 41 281 228 or email us airtrail.slovenia@gmail.com

  Call us, we are confident you gonna be satisfied
  call +386 41 281 228
 Book your private tour or airport pick up online
 

Flat rate door-to-door private transfers to or from Postojna cave:


transfer to Postojna from Ljubljana city  70€
transfer to Postojna from airport Ljubljana 90€
transfer to Postojna from Bled lake 120€
transfer to Postojna from Bohinj 160€
transfer to Postojna from Kranjska Gora 170€
transfer to Postojna from airport Klagenfurt 199€
transfer to Postojna from airport Graz 299€
transfer to Postojna from airport Zagreb 229€

* price for standard sedan car transfers 
   Info and legal section. We provide transfers to Postojna from the capital Ljubljana as well as taxi transfer connection to caves from Bled, Bohinj, Kranjska Gora, Bovec. The price for a taxi transfer to Postojna from non-listed places and tourist sites in Slovenia is by agreement. Taxi transfer to Postojna from coastal towns Piran to Postojna or Portoroz to Postojna are charged the same as to Ljubljana. Taxi service Postojna caves and Predjama castle is offered with the cooperation of a local taxi company. Private transfers from the international airports to Postojna are provided only with limousine cars. Private transfers Postojna Slovenia, private car service Postojna Slovenia, Taxi service Postojna Slovenia, Postojna caves transfers. All prices listed are guaranteed, with no extra additional costs. GeoTag Postojna cave, Postoina cave Slovenia. Thank you for visiting Transfer to Postojna page.