Transfer to Portoroz
Reliable and comfotable taxi transfer to Portorož Slovenia
   Transfer to Portoroz low cost with Airtrail taxi service. We offer inexpensive and secure transfer from main international airport in Slovenia (Ljubljana Jože Pučnik airport) and all other tourist spots. With years of experience in bussiness we can give you lowest possiblle price offer,from Ljubljana city to Portorož for 109 eur. In our fleet we have passenger cars, stationwagons and minivans for up to 8 people. Upon agreement we can arange special child seats for families traveling with small kids. If your pet friend is traveling with you, that doesn´t pose a problem also. We love all small animals.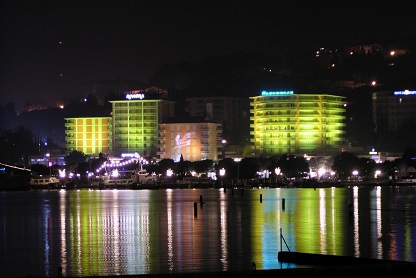 Today Portorož is popular place to work, relax and have fun. After all, Portorož boasts a large number of comfortable hotels with modern pools, a wide range of restaurants with different varieties of cuisine, and popular events. The coast town is also a well-known convention centre. Numerous convention halls, some of which can accommodate up to 1500 people at a time, are hoting prominent local and international meetings and events. There are many casinos too, where visitors try their luck with bouncing roulette balls, rustling playing cards and slot machines.
  Beside destinations inside Slovenia Airtrail taxi offers for you connetions to airports in the vicinity of Portorož: Zagreb, Trieste, Venice and Vienna, Graz, Klagenfurt in Austria. We organize transfers to all popular tourist destinations in Slovenia and Croatia and we can arange for you sightseeings in a company with an experienced driver who speaks your launguage. You can book your transfer online right now or if further information are needed call +386 41 281 228 or send an email: airtrail.slovenia@gmail.com

  Call us, we are confident you gonna be satisfied.
    call +386 41 281 228
2016, 17, 18 Tripadvisor Certificate of Excellence!

  Flat rate door to door transfers:

transfer to Portoroz from Ljubljana city  109 eur
transfer to Portoroz from airport Ljubljana 129 eur
transfer to Portoroz from Bled lake 159 eur
transfer to Portoroz from Bohinj 179 eur
transfer to Portoroz from Kranjska Gora 199 eur
transfer to Portoroz from airport Klagenfurt 219 eur
transfer to Portoroz from airport Graz 269 eur
transfer to Portorož from airport Pleso Zagreb 239 eur
 
airport Ljubljana transfer to airport Klagenfurt 95 eur
airport Ljubljana transfer to airport Salzburg 250 eur
airport Ljubljana transfer to airport Graz 189 eur
airport Ljubljana transfer to airport Vienna  319 eur

 Conections to airports in Croatia and Italy:

Airport Ljubljana transfer to airport Zagreb 159 eur
Airport Ljubljana transfer to airport Trieste 130 eur
Airport Ljubljana transfer to airport Venice 220 eur

* for up to 3 passengers,price for Minivan is 40% higher
 Airtrail transfer company offers low price transfer from airport ljubljana to portorož and other slovenian coast towns like: Koper,Izola,Strunjan,Savudrija,Piran.Airtrail taxi service guarantees low price taxi transfer to portoroz per fixed rate no matter time spend in traffic jams or additional luggage.We secure best deals in ljubljana and offer low cost private car service transfer from airport ljubljana to portorož,low cost  group private transfer to portoroz from Brnik,long distance international transfer from portorož to Milano. Best price deals airport transfers Portorož and Piran,low price taxi transfer from portorož to airports in vicinity and connections to tourist destinations in slovenia,croatia and austria. Beside regular rides we provide connections from Portoroz to aiports Zagreb,Venice,trieste,Klagenfurt,Graz.Call us for more info on our basic offers from portorož to ljubljana, from portoroz to airport, transfer to portoroz from italian airports,portoroz slovenia taxi,portoroz slovenia transfer... Geo tag Portoroz , Portorose,Slovenia, portorose slovenia