Taxi transfer from Ljubljana
Low cost and reliable individual transfers from Slovenian capital
   Taxi transfer from Ljubljana, the capital city of Slovenia. Airtrail taxi service offers low-cost private transfer from Ljubljana city to all Slovenian cities and tourist destinations. We have fixed prices for all destinations, no additional extras for waiting time, night hours, holidays, or highway fees. Flat rate taxi transfer from the city Ljubljana to the airport Ljubljana per 30 eur. Please check below for our contact phone number, email address, or book your pick up online via this link.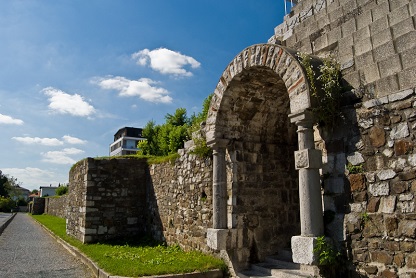 Ljubljana celebrated a very important anniversary in 2014,  the 2000 years of Emona, the first settlement within present-day Ljubljana. As its townspeople and numerous guests will tell you, Ljubljana is indeed a visitors-friendly city. Framed as a medium-sized European city, it offers everything as any metropolis but does preserve its unique small-town friendliness. The first impression a visitor gets of Ljubljana is that it is an exceptionally young city. It is home to over 50,000 students who give the city a special vibe. Today scientists are drawn to the city because of its high-class institutes and university, as are artists due to its world-famous graphic biennial, art academy, and countless art galleries. One of the most visited art places and also one of the most known is Metelkova. Metelkova City -Autonomous Cultural Center, located at the site of former military barracks is known as a progressive youth place and a meeting point where you can enjoy a good fun.
  Ljubljana is a city that people often return to, either because of work or because of pleasant memories from previous visits. It is similar to a number of other pleasant European cities, yet it is much different. If you want to be fully assured that Ljubljana is an interesting, pretty, and friendly place then just ask the locals - they love it. And with a name that according to one theory means beloved one, how could they do otherwise?
  Besides destinations inside Slovenia, our service offers private transfer connections to airports in the vicinity of Ljubljana, as to Zagreb Croatia, Trieste, Venice in Italy, and Austrian Vienna, Graz, and Klagenfurt. We offer a private car connection to all popular tourist destinations in Austria, Italy, and Croatia and we can arrange for you a day trip or sightseeing with one of our senior English-speaking drivers. For more information on services and prices call +386 41 281 228 or send an email: airtrail.slovenia@gmail.com
 Call us now, or book online in matter of minutes!
 Call +386 41 281 228  Whatsapp
2016 to 2020 Tripadvisor Certificate of Excellence!
 Flat rates door to door transfers:
Taxi transfer from Ljubljana center to Kamnik 25 eur
Taxi transfer from Ljubljana center to Kranj 35 eur
Taxi transfer from Ljubljana center to Celje 69 eur
Taxi transfer from Ljubljana city to Novo mesto 69 eur
Taxi transfer from Ljubljana city to Koper 99 eur
Taxi transfer from Ljubljana city to Piran 109 eur

Taxi transfer from Ljubljana city to Portoroz 109 eur

Taxi transfer from Ljubljana city to Maribor 109 eur
Taxi transfer from Ljubljana city to Ptuj 120 eur
Taxi transfer from Ljubljana city to Murska Sobota 160 eur
* price for passenger car transfer, max 3 pax and 3 suitcases
Airtrail offers low-cost transfers from Ljubljana city center, cheap taxis in Ljubljana downtown, cheap transfer city center Ljubljana- Maribor, low-cost transfers Ljubljana to Celje, minivan shuttle Ljubljana to Novo Mesto, taxi Slovenia Ljubljana to the airport. We offer the cheapest rates for taxis in Slovenia, the best taxi company in Ljubljana rated by Tripadvisor, cheap private transfer Ljubljana city information, low-cost taxi Slovenia Ljubljana bookings. Best service guaranteed for transfers at and to Ljubljana airport, private transport connection to Brnik from downtown, Ljubljana Slovenia airport transfers, transfer to Ljubljana airport for tourist groups, taxi for hotels in Ljubljana center Slovenia. Ljubljana airport transfers online bookings, Ljubljana airport to city center taxi site, Ljubljana airport to city taxi information, Ljubljana Joze Pucnik airport Slovenia shuttle services online inquiry. Ljubljana Slovenia taxi services price, airport transfer Ljubljana Brnik costs, Ljubljana Slovenia shuttle reservation online page, transfer from Ljubljana airport to the city center for an individual passenger. Not included in the original offer, but available on demand are Minibus Taxi transfers from Ljubljana to Celje, Nova Gorica transfers to Ljubljana airport and city, Celje to Ljubljana taxis. Recommended Ljubljana´s taxi service top-rated transportation company in Slovenia. Most popular inexpensive secure and reliable taxi service in Slovenia.