Taxi transfer to Italy



Private transfers to and from Italian airports and cities
   Due to its location taxi transfer to Italy from Ljubljana Slovenia in some cases lasts less than one hour. Capital slovenian town Ljubljana is only 110 kilometers distance away from italian port town Trieste. The same distance separates Ljubljana to Gorizia, namely 110 km. Treviso in Italy is located at 230 km and most famous italian tourist destination Venice at 245 km distance from Ljubljana. For online booking of transfers, contact email and phone number, please scroll down.
  Port town Trieste is located in the Gulf of Trieste and through history it has been influenced by Latin, Slavic and Germanic cultures.Trieste was one of the oldest parts of the Habsburg Monarchy and regionaly most important. In the 19th century, it was also the most important port for, at that time one of the most poweful empires. As a prosperous seaport in the Mediterranean, Trieste beacame the fourt biggest in Habsburg empire.
  Even if Treviso has a rich history, today it is mostly know as industrial giant and home to headquarters of clothing names Benetton, Sisley, Stefanel, Diadora and Lotto Sport Italia, appliance maker De'Longhi, and bike maker Pinarello. A lot of readers will also know Treviso for being the original production area of the Prosecco wine and being the city where well known Italian dessert Tiramisu originated from.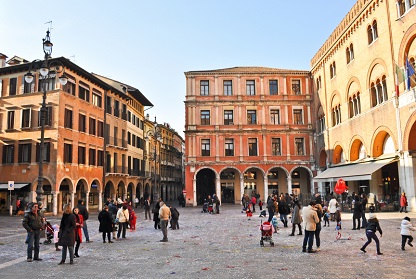 When one wants to describe Venice ,it gets instantly in trouble. Such a world famous town, with so much history, it is hard to know from where to start or what to describe!? The name itself derived from the ancient Veneti tribes who settled the region in the 10th century before christ. Venice was for long time the capital of  poweful Republic of Venice. The Republic of Venice was a major maritime power during the Middle Ages and Renaissance, and a staging area for the Crusades as well as a very important center of commerce. Todays Venice is a a popular tourist destination, departure airport for many and sea port for those departing on a cruise ship.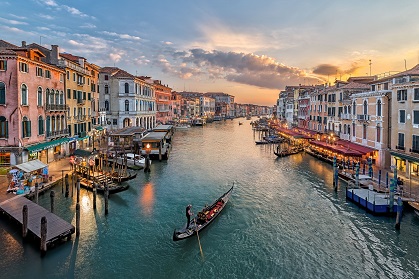 Airtrail Slovenia offers private transfers to or from Italian towns. We offer airport shuttle connections to Venice, Treviso, Trieste, Verona, Milan, as well as transfers to tourist spots and ski resorts in Dolomiti. In our fleet we have available sedan and stationwagon cars, family vans and minivans for up to 8 people. Cars are in average 3 years old, regulary checked and airconditioned. All our team of drivers speaks English and they have official licence to provide taxi service. Call us for details and to get a quote, team of operators is available in English 24/7 on phone number +386 41 281 228 Or contact us via an email inquiry: airtrail.slovenia@gmail.com
Call us now, avoid price surge later !
          Call +386 41 281 228
Online inquiry or Whatsapp messages

Our transfer prices, no additional hidden costs:
Taxi transfer to Italy Trieste from Ljubljana 90 eur
Taxi transfer to Italy Trieste Ronchi from Ljubljana 110 eur
Taxi transfer to Italy Udine from Ljubljana 150 eur
Taxi transfer to Italy Treviso from Ljubljana 200 eur
Taxi transfer to Italy Venice from Ljubljana 200 eur
Taxi transfer to Italy Mestre from Ljubljana 200 eur

Taxi transfer to Italy Verona from Ljubljana 350 eur
Taxi transfer to Italy Dolomiti from Ljubljana 350 eur
Taxi transfer to Italy Milan from Ljubljana  490 eur
   * flat rate for passenger car transfers, max 3 pax & 3 suitcases
 Airtrail Slovenia guarantees all prices as listed on Taxi transfer to Italy page for above mentioned private transportations. Transportation to Bologna, Rimini, Florence,Vicenza and Bolzano from Slovenia shall be made by agreement on price and details. All cost transfer from Slovenia to Italy is always agreed upon contact. Extra budget prices for transportation to Italian towns Venice and Trieste be recognized for bothway and return trip transfers to Slovenia. Connection to Italy Trieste from Piran, Venice from Piran or Portorož are billed as transfers from capital Ljubljana. Some spots inside ski Dolomites are only reachable using local way of transportation, we offer tranportation to the last possible destination acessible by car in Dolomites Italy. Airport shuttle Venice Slovenia, private shuttle Venice Slovenia Ljubljana and shutttle service from Ljubljana Slovenia to Venice is provided if prebooked in advance. Taxi transfer to Italy Venice is carried out with our vehicles except when settled otherwise.Thanks for visiting our Taxi transfer to Italy page.